Functional work environment
Due to their simplicity the QuickWall system partitions are a saving factor in the accommodation budget when the layout of a work area is involved.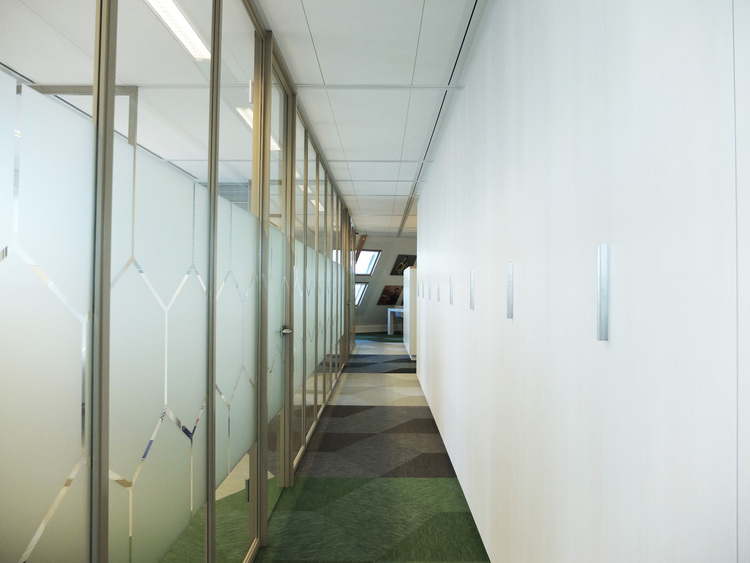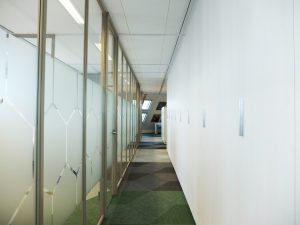 Versatile arrangement
With a wide range of profiles the QuickWall partition system offers many possibilities.
Due to the varied wall thicknesses this system has a high degree of design freedom and makes possible almost every required wall layout. The project layout can simply be adjusted by QuickWall to your requirements and wishes.
The profiles are directly available from stock. Quick assembly with a minimum of inconvenience also ensures that activities in your organisation are unaffected or hardly disturbed.
Specificaties QuickWall – 3 Partition Thicknesses
Specifications
wall thickness 98 mm.
optional: 64 mm. or 37 mm.
suitable as single glass wall and wall connection to the external wall.
wall height ≤ 6.000 m¹ (max.)
in modules 0.300 m¹ ~ 1.200 m¹ variable
weight 2.2 kg/m²
indicated weight of closed elements excludes fill-ins
sound insulation –
fire resistance –
profiling aluminium according to EN755-9
aluminium ceiling profile with integrated picture rail
aluminium floor profile with recessed skirting
alumimum profiled coping with plastic insert strip
aluminium corner profiles in a square and rounded design
aluminium door profiles in a square design
finish EV1 10microns anodised according to Qualanod
powder coating according to Qualicoat
glazing single and 2-sided 4 to 7 mm.
panels 12.5 mm. plasterboard with vinyl wallcovering
12 mm. laminated chipboard panel
insulation 45 or 60 mm. mineral wool
doors 40 mm. obtuse design
40 mm. lipped design
8 to 10 mm. toughened safety glass
optional LED lighting, desk tops, slats, window film, sliding doors, whiteboards, etc
fire-resistant and impregnated plasterboard/cardboard panel
coloured, matt, fire-resistant, sound-insulating or security glass
Technical details
Description
Make : Sypla International B.V.
Type : QUICKWALL
Non-supporting, demountable and movable double-sided partition system for application as a floor-to-ceiling system partition.
Partition system, thickness 98 mm., consisting of a sendzimir galvanised steel inner frame and an aluminium grid consisting of connection, corner, window and door profiles in a square and rounded design.
The system is vertically accentuated by omega profiles screwed onto the inner frame with plastic insert strips to attach the panels or glazing.