Subtle design
With the TecnoLine partition system you opt for a sleek and almost featureless vertical delineation.
Sleek arrangement
TecnoLine creates a modern environment with a wide scope of designs: wood textures, metallic looks, striped patterns, plain colours, etc..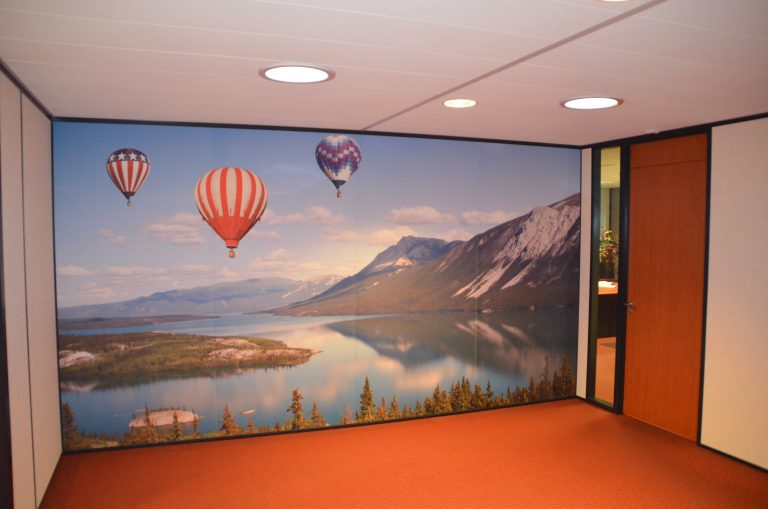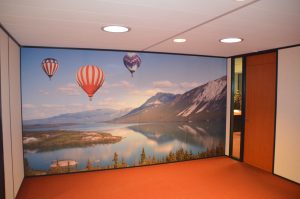 Apart from being versatile the system also offers the choice between the product and budget-depending characteristics of plasterboard and laminated chipboard panels.
Combined with SpaceTech and SypLux partition systems TecnoLine contributes to a complete solution for your project design.
Profiles directly available from stock combined with very fast and clean assembly with minimum inconvenience also ensure that the activities in your organisation are unaffected or hardly disturbed.
Specificaties TecnoLine – minimal vertical delineation
Specifications
wall thickness 98 mm.
wall height ≤ 3.500 m¹ (max.)
in modules ≤ 1.200 m¹ variable
weight > 1.5 kg/m²
indicated weight excludes fill-ins
sound insulation ≤ 41 dB
fire resistance –
profiling aluminium according to EN755-9
aluminium ceiling profile with integrated picture rail
aluminium floor profile with recessed skirting, available in 3 designs
aluminium corner profiles in a squared or rounded design
aluminium door sections in a squared or rounded off design
finish EV1 10microns anodised according to Qualanod
powder coating according to Qualicoat
panels 12.5 mm. plasterboard with vinyl wall covering, FineLine type
12 mm. laminated chipboard panel
insulation 45 or 60 mm. mineral wool
doors 40 mm. obtuse design
8 to 10 mm. toughened safety glass
optional LED lighting, window film, sliding doors
Technical details
Description
Make : Sypla International B.V.
Type : TECNOLINE
Non-supporting, demountable and movable double-sided partition system for application as a floor-to-ceiling system partition.
Partition system, thickness 98 mm., consisting of an electro-galvanised steel inner frame and an aluminium frame consisting of connection, corner, window and door profiles in a square and/or rounded design.
The system is vertically accentuated seamlessly between the panels by a vee seamless joint (zero joint)