Office concept allowing insight
The SypLine single glass system guarantees a spatial layout. The application of glass in interiors is gaining popularity. Glass is a versatile material and allows natural daylight. The glass wall accentuates the identity, image and culture of an organisation.
SypLine DG
Optimal transparancy, now available in double glass version as well. Please take a look at the details below and contact us for more informations.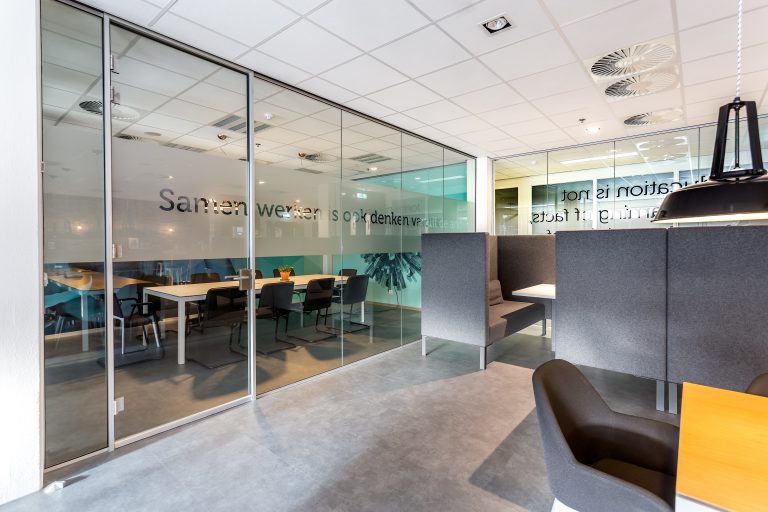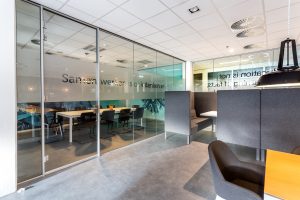 Transparent arrangement
Full transparency and minimalism form the basis of the SypLine partition system. Due to its inconspicuousness the system does full justice to the interior. This is how the visible image enhances the sense of space and keeps the interior climate pleasantly healthy.
SypLine is the all glass partition system with varied detailing of the vertical connections between the glass panels. Apart from this, it is pre-eminently suitable for aesthetic statements: full transparency, translucent or to your own design.
Specificaties SypLine – Glass Partition
Specifications
wall thickness 25 mm.
wall height ≤ 3.500 m¹
optional: 3.500 ~ 5.000 m¹ in combination with glass stabilisers
in modules 0.300 m¹ ~ 1.250 m¹ variable
weight 30.00 kg/m²
indicated weight of closed element includes fill-ins
sound insulation ≤ 37 dB (42 dB possible with the use of different glass and profiles)
fire resistance – no certificates available (ask for our alternative, up to 60 min fire resistant)
profiling aluminium according to EN755-9
aluminium ceiling profile
aluminium floor profile
plastic cross profile
plastic corner profile
aluminium door profile in a square design
finish EV1 10µ anodised according to Qualanod
Stainless steel look
glazing 12 mm. toughened safety glass
doors 8 to 10 mm. toughened safety glass
optional 32 dB to 42 dB sound-deadening door systems
layered 55,2, 66,2, 88,2 mm. safety glass, PVB (A) acoustic film, window film, coloured, matt
Technical details
Description
Make                : Sypla International B.V.
Type                : SYPLINE
Non-supporting, demountable and movable single-glass partition system for application as a floor-to-ceiling system partition.
Partition system, thickness 25 mm., consisting of an aluminium grid of connection profiles and door profiles in a square design.
System components are vertically linked to each other between milled glass panels by light-grey plastic cross and corner profiles.
The glass panels can also be interconnected by using a specific type of tape.