Structural design
The Syplux partition system offers an efficient solution whereby the use of (stacked) monoblocks ensure a structured construction process.
Quick arrangement
The Syplux partition system is characterised by the prefabricated monoblock elements and a fast construction method; the elements are delivered to the project ready for use and it is only a question of time to assemble them.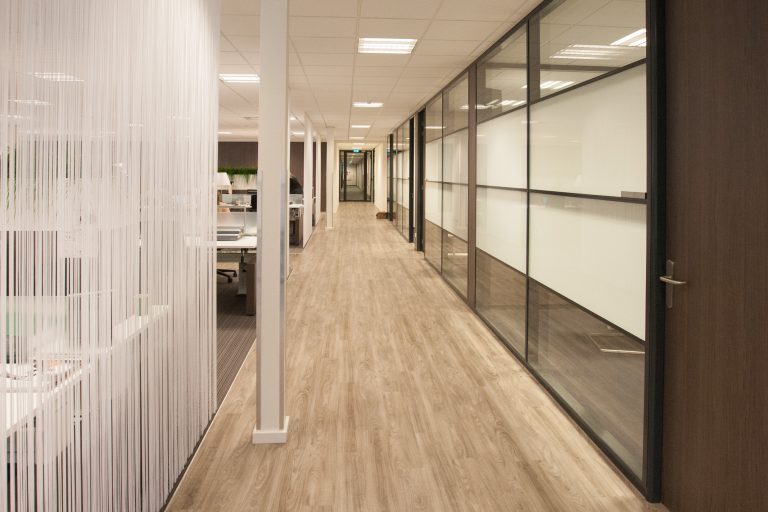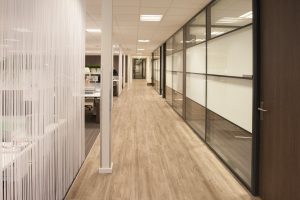 With its Syplux system partition Sypla International B.V. takes advantage of the increasing demand for shorter assembly times in the outfitting sector. The prefab assembly of the monoblock elements considerably reduces the final installation time.
The system is easy to combine with the other walls and is simply exchangeable.
Specificaties SypLux – Monoblock Partitions
Specifications
wall thickness 98 mm.
wall height ≤ 6.000 m¹
in modules ≤ 3.000 m¹ variable (1.200 m¹ centre-to-centre standard)
weight > 4.4 kg/m²
indicated weight of the system, excludes fill-ins
sound insulation up to 43 dB
fire resistance –
profiling aluminium according to EN755-9
aluminium ceiling profile with integrated picture rail
aluminium floor profile with recessed skirting in 3 designs
aluminium profiled coping, smooth design
aluminium corner profiles in a square or rounded design
aluminium door profiles in a square or rounded design
finish EV1 10 microns anodised according to Qualanod
powder coating according to Qualicoat
glazing 2-sided 4 to 7 mm. glass
panels 9.5 mm. plasterboard/ cardboard panel with vinyl wallcovering
10 mm. laminated chipboard panel
insulation 45 or 60 mm. mineral wool
doors 40 mm. obtuse design
8 to 10 mm. toughened safety glass
optional LED lighting, desk tops, slats, window film,
sliding doors, whiteboards, coloured, matt, fire-resistant,
sound-insulating or safety glass, etc.
Technical details
Description
Make: Sypla International B.V.
Type: SYPLUX
Non-supporting, demountable and movable monoblock system for application as a floor-to-ceiling system partition.
Partition system, thickness 98 mm., consisting of an electro-galvanised steel inner frame and an aluminium frame consisting of connection, corner, window and door profiles in a square and/or rounded design.
The system is vertically accentuated by means of aluminium profiled copings which are fitted without screws into steel omega profiles in order to attach the block elements.