The retirement of Martin Meijer.
It was only on the 18th. July of 2013 when we celebrated the 25th work-anniversary at our company, now the time for his retirement has come.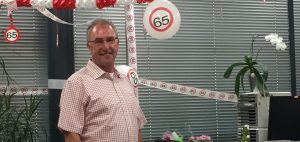 As a planning engineer Martin has given his best and meant a lot for Sypla International. He will be remembered especially by his commitment towards and knowledge about our systems and for his cheerful sound within the company. To remember and recall his name within our organisation we have named "Mart" in our latest product, the SMARTbox.
We honoured Martin with a farewell party within our company's team in December.